THE CULTURE CHALLENGE
© Morris E. Ruddick
"There was a certain man in Caesarea called Cornelius, a centurion of what was called the Italian Regiment, a devout man and one who feared God with all his household, who gave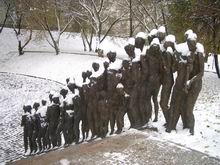 alms generously to the people, and prayed to God always. He saw clearly in a vision an angel of God coming in and saying to him, 'Cornelius! Your prayers and your alms have come up for a memorial before God.'" Acts 10:1-4
Throughout the history of God's people, cultural identity has been an issue. During the days of Samuel, the people prevailed in their desire to have a king "like everyone else." In contrast, a key distinguishing characteristic of the heroes of faith has been their unequivocal identity in God. It is the mark of the mantle of leadership by anointing. Regardless of the level of spiritual maturity, it is the response to culture that will define the impact for those choosing the path to be known by His Name.
The story of Cornelius is the story of a leader who reached beyond his culture and tapped the heart of God. His spiritual fervor likewise influenced his entire household. Cornelius put into practice the truth Jesus imparted in John 17 that true believers are not of this world. Cornelius' spiritual identity was an igniter for change that greatly impacted those in his sphere.
Joseph the Patriarch's clear identity in God was in sharp contrast to Egyptian culture, and despite his lowly positions, as a slave and then prisoner, carried great influence.
"The Lord was with Joseph and he was a successful man and everyone saw that the Lord was with Joseph and made all that he did to prosper." Gen 39:2-5
Multi-Faceted Levels of Culture
There are many facets to culture: from ethnic to religious to socio-economic groups and more. Culture dictates shared values, attitudes, expectations and behavior.
The Word of God describes three primary spiritual dimensions of culture: the world; darkness or evil; and the culture defining the community of God people. Jesus raised the bar for the culture of God's household with His teachings on the Kingdom of God. Throughout the Word of God, God's people are expected to set the standard. It is a standard that is always higher.
Organizations also have distinctive cultures. An organization's culture generally defines how its members operate and are viewed by others. They set the tone, passively or actively, for the organization's spiritual climate.
Believer-operated organizations face the challenge of being in the world, but not of the world. This challenge operates even with ministry and church organizations whose sole purpose is spiritual. Subtle to overt challenges operate when God-centered cultures are blended with worldly cultures.
The blending impacts the purity of organizations with "spiritual" cultures. This can manifest from flaws that create hurdles, to outright defilements that undermine. Unfortunately, this happens in subtle, often not easily recognizable ways. Sometimes it results from imitations of the world and sometimes it is caused by self-contrived religious practices, neither of which have their foundation in Scripture.
In my "Heart of the King" book (chapter 10 "The Mold"), I quote my good friend Pete Holzmann, founder of the International Christian Technologist's Association (www.icta.net). He comments on how the "world around us" can create blind spots that undermine the biblical standard and with that, the potential spiritual impact:
"Throughout history, the church has seen the task as primarily resource-limited, a notion that contradicts the business view of work. Ministries tend to say, 'Here are the (limited) available resources, so how much time is needed to accomplish the desired result?' In contrast, business asks 'we need to accomplish the desired result by a certain time, so how many resources (people, funds, etc.) are needed?"
As a former business owner turned mission strategist who birthed the 10/40 Window concept, Mr. Holzmann is a credible observer. His observation reflects a prevalent, distorted standard in Christian circles by which success is judged, or even when measuring what is considered "right." In reality, the issue he raises is one of stewardship. Too often operational standards can be skewed by short-sighted worldly to religious extremes, resulting in blended cultures and hindrances to full potential.
These limiting factors can result in serious shortcomings and defilements in the styles of leadership among ones who have been prepared in such cultures. In some cases, they can be embraced to a level equating with "idols in their minds" (Jer 14:14). The mind-sets and practices such as Mr. Holzmann illustrates mask and undermine and can cause blind-spots that bear examination and adjustment to insure they do not digress into iniquities that discredit Kingdom efforts.
Iniquities are cultural sins. Some have tried to reduce the meaning of iniquities to simply being generational. There indeed are generational sins and iniquities do impact generations. However, iniquities encompass much more. They have their root in the culture, whether trans-generational ethnic, socio-economic, religious or organizational.
Overcoming organizational blind-spots is a leadership issue requiring the wisdom and leading of the Holy Spirit to address cultural hurdles in establishing higher standards for operating procedures.
Cultural Dynamics
There is a dynamic that takes place for those leaving their culture. When totally immersed into cultures sharply different from their own, especially with new language requirements, most will attest to experiencing what is known as culture shock. Culture shock creates an impact that disorients the cultural foundations of the person being affected. Depending on the situation, it can range from being mildly uncomfortable to traumatic; but in effect it demonstrates the dynamic of the culture squeezing the newcomer into its mold. However, this phenomenon is not unlike the process of embracing biblical culture.
The premise from Deuteronomy to teach these things to your children, when you lie down, when you rise up and when you walk by the way, addresses the issue that from the days of Moses, that Jews have put their biblical, cultural heritage on the front burner. This fervency has resulted, for the most part, in the Jewish community being a culture of discipline, as well as a culture within a culture with their identity in God, as a people.
On the other hand, for many who have come to faith in Christendom, the biblical standard represents the need for a cultural transformation. This transformation, alluded to by Paul as "renewing your minds" takes discipline and it takes time. The challenge is constant and even when spiritual maturity comes, it takes on new levels. The Phillips translation of the New Testament captures this reality with its rendering of Romans 12:2: "Don't let the world squeeze you into its mold."
Within Christian organizations, this reality and the times demand reaching for the pure standard. Jesus summed up this higher standard in Matthew 28 as "these things I have taught you." His reference was to the mandate of implanting righteous power into corrupt settings. It's a spiritual challenge with subtle cultural hurdles.
Even within secular settings, the culture war in organizations is seen in the difference between institutional approaches to leadership, versus entrepreneurial styles. Large organizations, such as GE under the leadership of Jack Welch, have experienced dramatic turnarounds by re-embracing entrepreneurial leadership approaches.
The chart below has been adapted from the experience of an accomplished institutional leader (John Skully) who was hired to assume the reigns from Steve Jobs, who as Apple Computer's founder, infused it with an entrepreneurial culture. The result in bringing in Mr. Skully was a clash of cultures that almost undermined Apple's future. Entrepreneurial basics have very biblical foundations with God's nature being to create, innovate, build and multiply.
| | | |
| --- | --- | --- |
|   | Institutional | Entrepreneurial |
| Mind-Set | Mechanized, Short-Term | Open, Long-Term |
| Focus | The organization | The person |
| Structure | Tight, Controlling | Loose |
| Innovation | Reduce Risk | Risk, Faith |
| Operating Style | Top-down | Bottom-up |
| Ability | To manage | To embrace change |
| Output | Market share | Market creation |
| Leadership | Micro-Manage | Motivation, Nurture |
| Product | Artifact or service | A dream |
| Motivation | To make money | To make history, to build |
* Adapted from John Scully, Odyssey: Pepsi to Apple, 1987, Harpcollins Publishing
The conflict of culture that brought disruption into Apple Computer is even more subtle and more serious when manifesting in Christian establishments. Mr. Holzmann's observation of the blind-spots in stewardship within Christian organizational cultures is only the tip of the iceberg. There is a need for a closer examination of our cultural predispositions organizationally in the same way that we examine our hearts.
The Response to Culture
Scripture tells us that Daniel's performance in the king's court was ten times better than that of ALL the sorcerers in the realm. That ratio of excellence was likely very necessary in his role as the minority, but counter-culture leader.
Today, a higher standard for believer-operated groups is needed to adequately respond to the times in keeping with the goal of demonstrating God's reality.  It goes with a leadership mantle requiring greater purity. Purity certainly begins in the heart. It is the result of conforming to truth as we know it. However, the fact is that as purity matures, the tendency is for it to become squeezed into blended molds in community and organizations.
While it is God's nature to build and bring increase, I recall a Christian organization in which a profit-center strategy was instituted. This was an organization built upon sacrificial donations that had many years of positive Kingdom impact and growth. However, being enticed with the notion that they needed to adjust their approach to conform with their new level of success, they axed several parts of the ministry which could not be financially justified.
Sadly and blindly, the areas eliminated had much spiritual value and in effect supported their purpose for being. That led into an extended time of puzzling over the reasons for the declines in their donations. Their short-sighted approach is the other end of the spectrum from Mr. Holzmann's example. It illustrates the impact that can result from the illusion that the world's system has the answer. The answers and strategies needed for both growth and tough times will find their foundation in the Word of God. We are to be in the world, but not of it.
The Bereans demonstrate the first-level response needed to the culture challenge. Acts 17 tells us that the Bereans searched the Scriptures to see if the truths they heard were so. That not only is the wisdom required, but it punctuates the strategy.
Rightly dividing and uncovering pertinent truth in the principles and models of God's Word unveils the need for humility in the response; a cultural humility. It is far too easy to assume that because of the "culture," or because of its "acceptance," or even the illusion of it bringing success, that these "things," the propositions, values and standards, are concluded as being so.
True humility is critical in overcoming this subtle seed-bed for blind-spots. Cindy Jacobs once shared with me that among Christian leaders, especially apostolic leaders there is a tendency toward a false humility. It's another dimension of the blind spots. True humility and idols in ones mind do not co-exist.
True humility is a predisposition of the heart. It is a lifestyle. It's a Kingdom strategy and is foundational to operating as a Kingdom leader. It is a reflection of flowing in the Spirit. There is an unusual authority, that is righteous and just, that results from true humility. The very presence of one operating with true humility ignites change. True humility requires greater grace.
"God resists the proud, but gives grace to the humble." James 4:6
Christian leaders put things in order; God's order. One of the characteristics of apostles is a high-level of building and establishing God's order. That involves the wisdom and discernment to understand the priority of agendas as they fit into the big picture. That includes the mantle to rise above the cultural myopia that has root in far too many believer-operated organizations.
Culture gets to the cause, whereas prideful attitudes and responses impede the remedy and create cyclic returns to the problem, because they are only dealing with symptoms. It underscores Paul's observation of "ever learning but never coming to the knowledge of truth." The remedy pivots on purity and the reach for it.
A keen grasp of true biblical foundations is not an option to operating within the world's system. Because the standard is higher, it demands a higher authority and diligence in the reach to ensure the Light employed in darkness is not only predominate with its application of righteous power, but is employed in such a way that its potency is not diluted.
"Who may abide in your tent and who may dwell in your holy hill? He who walks with integrity and works righteousness; who speaks truth in his heart and does not slander with his tongue, nor does evil to his neighbor, nor takes up a reproach against a friend. In whose eyes a reprobate is despised, but who honors those who fear the Lord; who swears to his own hurt and does not change; who does not put out his money at interest nor takes up a bribe against the innocent. He who does these things will never be shaken." Psalm 15
The Restoration of Biblical Culture
Over the centuries, the church has been inundated by the precepts of men, draining the power of the first-century church. Even today, Christian culture reflects an intertwining of pure biblical truth with doctrinal precepts which serve as simplifications and sometimes props that stymie a mature grasp of the truth. Yet, progressively over the centuries and even more in our day, there has been a remnant and a restoration in grasping and applying the truth and culture that operated in the early church. We live in a time of turbulence when more is needed.
A key part of this restoration of biblical culture today is found in the foundations in the biblical, Jewish roots to the faith. In 1967 there emerged a movement capturing and restoring an old dimension to the identity of Jewish believers. With that has come a growing recognition in the church of the Jewish foundations that were at the heart of the early church. Jesus' Kingdom message is culturally very Jewish.
"In those days ten men from all the nations will grasp the garment of a Jew saying," Let us go with you, for we have heard that God is with you." Zech 8:23
This restoration now has extended to where Jew and Gentile, as "one new man" are recapturing dynamics of worship that were at the heart of the vibrancy of the first-century church.
"So that in Himself He might make the two into one new man, thus establishing peace." Eph 2:15
In conclusion, there is a culture war taking place all around us; but it's also happening within the ranks of our organizations. God never intended those known by His Name to be like everyone else. Our identity is to be distinctive, in Him. The response demands true leadership. That means a mature, strategic leadership in which we serve, like Joseph and Daniel, as ambassadors in the culture war within, as well as the one with which we are surrounded (2 Cor 5:20).
There's no perfect organization, just as there is no perfect believer. However, what is involved is a pure heart. What is required is in the reach for the higher standard. That holds great potential when it comes from the parallel between the poise of the soul and the culture. And THAT is an issue for leadership by anointing.
"Not that I have already attained, or am already perfected; but I press on, that I may lay hold of that for which Christ Jesus has also laid hold of me. Brethren, I do not count myself to have apprehended; but one thing I do, forgetting those things which are behind and reaching forward to those things which are ahead, I press toward the goal for the prize of the upward call of God in Christ Jesus. Therefore let us, as many as are mature, have this mind." Phil 3:12-15