SPIRITUAL CAPITAL
© Morris E. Ruddick
"In all matters of wisdom and understanding about which the king examined them, he found them ten times better than all the magicians and astrologers who were in his realm." Daniel 1:20
Daniel, Hananiah, Mishael, and Azariah were selected from among the young Jews brought into captivity to be trained to serve in the king's court. Theirs was a narrow path as they were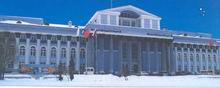 groomed for service in a culture of sorcery. Upon completing their extended training, with a mantle of leadership and influence in high places; scripture tells us that God gave them each knowledge, skill and wisdom; and to Daniel was given a gifting in dreams and visions. God gave them a significant advantage with spiritual capital.
"As for these four young men, God gave them knowledge and skill in all literature and wisdom; and Daniel had understanding in all visions and dreams." Dan 1:17
Spiritual capital is a hidden reserve of righteous power that operates in parallel in the natural and spiritual realms. It represents the God-reserve needed by spiritual leaders and advisors to righteous worldly leaders, when orchestrating God-ordained change involving confrontations with evil. It is the overriding advantage when God's people are faced with bringing a shift to the prevailing spiritual climate.
The series of faceoffs that Moses had in Pharaoh's court demonstrated the manifestation of this advantage. Joseph demonstrated the reality of God in Potiphar's house, while in prison, and then with Pharaoh with a targeted deployment of his spiritual capital. David cashed in on it with his confrontation against Goliath. Elijah drew from it in his encounter with the prophets of Baal and Asherah; yet soon thereafter found his spiritual capital exhausted when challenged by Jezebel.
Capital is something that is accumulated as a reserve that can be withdrawn when an unusual need arises. While different from income, it can be passed down through generations. The dynamic of spiritual capital operates in a comparable fashion.
Spiritual capital is uniquely linked to purposes tied to community. It is different from the anointing, although it is enhanced and actuated by the anointing. Spiritual capital coincides with the miracle-working power of God. It incorporates, but greatly exceeds normal faith.  Spiritual capital is required to wield the authority needed to release God's judgment. The Apostle Paul cashed in on his spiritual capital in calling down judgment in his confrontation with Elmyrus the sorcerer in Acts 13.
The Dynamics of Spiritual Capital
Spiritual capital needs to be viewed as a resource that can be employed for special needs. While it employs human capabilities, it is evidenced by a dimension that clearly is far beyond that of one's natural capacities.
Spiritual capital can be depleted and should not be squandered. It can be misused or wasted on non-essentials. Sin, compromise and deceit will drain spiritual capital reserves. Unfortunate are those with high callings who begin in the Spirit, who wind up working things out in the flesh. It will sap their spiritual capital as the goal of the high calling increasingly eludes their best efforts.
Spiritual capital releases righteous, supernatural power. It is a strategic means to overcome evil with good. Spiritual capital builds when the anointing, faith and blessings of God are released and put into action. Spiritual capital accumulates from the application of good stewardship of ones gifts, tz'dakah and generosity.
Spiritual capital is built up from time genuinely spent in the presence of the Lord, in worship, prayer and immersion in the Truth. However, higher levels of spiritual capital are amassed by the application of tz'dakah, the enablement of opportunity for others and when employing the dynamics that reset the spiritual climate of an area.
Employing Tz'dakah. The community dynamic of tz'dakah or charitable righteousness fuels the reserves of spiritual capital. On the first level tz'dakah looses the bonds caused by the destructive forces of evil by an open-handed generosity that helps the disadvantaged.
"Is this not the fast that I have chosen: To loose the bonds of wickedness, to undo the heavy burdens, to let the oppressed go free, and that you break every yoke? Is it not to share your bread with the hungry, and that you bring to your house the poor who are cast out; when you see the naked, that you cover him, and not hide yourself from your own flesh?" Isaiah 58:6-7
God's response to giving focus to this priority of His heart is clear and dramatic.
"Then your light shall break forth like the morning, your healing shall spring forth speedily, and your righteousness shall go before you; the glory of the LORD shall be your rear guard. Then you shall call, and the LORD will answer; you shall cry, and He will say, 'Here I am.'" Isa 58:8-9
Jesus was making reference to the priority of this dynamic in Matthew 25:34 when he separates the sheep from the goats.
"Then the King will say to those on His right hand, 'Come, you blessed of My Father, inherit the kingdom prepared for you from the foundation of the world. For I was hungry and you gave Me food; I was thirsty and you gave Me drink; I was a stranger and you took Me in; I was naked and you clothed Me; I was sick and you visited Me; I was in prison and you came to Me.' Then the righteous will answer Him, saying, 'Lord, when did we feed You, clothe You or take You in?' And the King will answer and say to them, 'Inasmuch as you did it to one of the least of these My brethren, you did it to Me.'" Matt 25: 34-40
Enabling Opportunity. Community serves as a safe place that cultivates the gifts and destinies of its members. Kingdom leadership defined by Jesus serves. It develops and enables opportunity tied to furthering the unique abilities and purpose-in-life for others. The Jewish concept of a minyan, a small group that serves the purpose of prayer and to nurture the successful destinies of its members, was the model Jesus used during His earthly ministry to train the leaders who succeeded Him. A leader's influence advances in proportion to the level in which they invest themselves in others.
"As your faith grows, we will be, within our sphere, enlarged even more." 2 Cor 10:15
Resetting the Spiritual Climate. The spiritual climate of an area of darkness begins to be reset when the reality of God is demonstrated by His people. While yet a slave in Potiphar's house, Joseph's faithful stewardship extended the blessings of God that were recognized by the Egyptians as being from God (Gen 39: 2-6).
Penetrating the lairs of darkness, resetting the spiritual climate and reversing the bondage of corruption begins with crisis intervention which offers tangible hope for those gripped on a path of destruction. This is a key means of enhancing reserves of spiritual capital. Its employment then progresses through stages which establish the righteous function of the community, described by Isaiah 58 as being given the ability to build up and bring restoration from ruin and to set the purposeful course for future generations.
"If you take away the yoke from your midst, the pointing of the finger, and speaking wickedness, if you extend your soul to the hungry and satisfy the afflicted soul, then your light shall dawn in the darkness, and your darkness shall be as the noonday. The LORD will guide you continually, and satisfy your soul in drought, and strengthen your bones; you shall be like a watered garden, and like a spring of water, whose waters do not fail. Those from among you shall build the old waste places; you shall raise up the foundations of many generations; and you shall be called the Repairer of the Breach, the Restorer of Streets to Dwell In." Isa 58:9-12
Qualifiers for Applying Spiritual Capital
While there is diversity in the application of spiritual capital, it most usually operates through a mantle of leadership with agendas that have either an immediate or a forthcoming impact on a community of God's people; or as a witness to unbelievers of being blessed to be a blessing, as seen in the story of Joseph. It is not unusual for it to entail life and death situations, as in the cases of Elijah, Daniel and David, but it almost always embraces an at-risk premise that unless God intervenes, the situation could become catastrophic.
There is an illusion, a counterfeit to spiritual capital. Driven by high-levels of blind spots and deception, it parallels charismatic witchcraft, which in reality taps the power sources of darkness. Self-justified for wrong reasons, counterfeit enticements blending seemingly righteous goals with compromise will suddenly fall short, with critical, judgmental competitors being shocked, to find that their expectations for spiritual capital have leaks.
There likewise is a significant difference between entering an at-risk domain because of God's leading to risk it all and being reckless. Rambo is a fiction; a poor example of undisciplined heroics that has no place in real-life, at-risk situations. Presumption is a trap. Evidence of deceit will undermine the expectation of spiritual capital reserves. Its availability is a sacred trust that excludes the naïve and immature and those blinded by ego and soulish issues. There is no room for ego or soulish issues for true Kingdom leaders.
The release of spiritual capital is not something that can be forced. Rebellion, arrogance and underhandedness will create backlash to attempts to actuate it. The release of spiritual capital involves ones with pure hearts who realistically have faced the realities of the risks and are willing to pay the cost. That involves the discipline tied to those having the authority for its release in fully ruling their own spirits.
"With the merciful You will show Yourself merciful; with a blameless man You will show Yourself blameless; with the pure You will show Yourself pure; and with the devious You will show Yourself shrewd. For You will save the humble people, but will bring down haughty looks. For You will light my lamp; the LORD my God will enlighten my darkness. For by You I can run against a troop, by my God I can leap over a wall. As for God, His way is perfect; the word of the LORD is proven; He is a shield to all who trust in Him." Psalm 18: 25-30
Seasoned Kingdom leaders have the authority to both mobilize and release spiritual capital. In similar ways to Joseph and Daniel, experience with spiritual backlash will yield the wisdom to recognize and avoid the subtle schemes to divert or to diffuse the spiritual capital operating at those times when it really counts.
Examples of Applying Spiritual Capital
Those who became the apostles of the early church had amassed an incredible level of spiritual capital from being with Jesus. They paid the cost needed to penetrate the veil. The apostle Paul spent three years in the Arabian desert in deep communion with the Holy Spirit, resetting his spiritual foundations and in so doing amassing his own reserve of spiritual capital.
I have known leaders who have memorized great segments of the Word of Truth whose spiritual feats could not have been accomplished apart from that dimension of God that resulted that we've defined as spiritual capital. In like fashion, I have friends, leaders whose reservoir of spiritual capital from Isaiah 58 agendas has resulted in exploits far beyond chance expectation in the natural.
One good friend, I recall praying for in 1997 as he persisted at the border of Taliban-controlled Afghanistan with a supply of wheelchairs and other medical supplies. This nation has held the sad distinction of having the highest ratio of paraplegics of any nation on earth. After seven days of visa application denials, the decision was reversed and he was given entrance to begin what God had sent him to do.
His subsequent economic community development and Isaiah 58 efforts saw a remarkable unfolding. In May of 2002, two months after the troops had gone into Afghanistan, Carol and I spent time at his compound and witnessed the amazing way the Lord had built his effectual outreach in the face of a reign of terror. There is no doubt in my mind, that the spiritual capital he had amassed was the reason that his was the only Western compound that had not suffered attack while under the Taliban.
Strategic Need of Spiritual Capital for This Hour
With examples like Cyrus in the days of Daniel, and Pharaoh in Joseph's time, God grants unusual spiritual capital to leaders wielding a righteous mastery of power in the world's system whose destinies fulfill the Lord's purposes. With 53 of the largest 100 economies in the world being corporations (Gabel, Bruner, Global Inc. 2003, New York), it should be no surprise that God is raising up modern-day Josephs with the spiritual capital to serve His purposes in both corporate and nation-state refuges.
We have entered a time of judgment. Neither the authority for judgment nor the wisdom required to navigate a time of judgment come apart from a serious reservoir of spiritual capital. The expectation for employing spiritual capital involves the bar being raised beyond the best capabilities of the best. The factor of ten times better described in Daniel 1 represents the needed advantage. Yet, it involves a cost. It is a cost that begins by those called in this way, being brutally honest in speaking truth in their hearts (Ps 15) and then depending totally on Him.
For those that prevail; pure hearts, a humility born from prevailing over adversity, a heart that reveres and is in complete oneness with the Lord, and a leadership mantle in their sphere will evolve. These are the requisites for those entrusted to release the spiritual capital that marks heroes of faith.
"'Do not fear. Those who are with us are more than those who are with them.' And Elisha prayed, 'LORD, open his eyes that he may see.' So the LORD opened his eyes and he saw. And behold, the mountain was full of horses and chariots of fire." II Kings 6:16,17