THE PRECEPTS OF MEN
(c) Morris E. Ruddick
Note: Several years ago, as I was praying with my pastor, he began praying. This man of God, incredibly sensitive to the Spirit of God, as well as to the spirit of those around him cried out: "Oh Lord, all these people Morris is carrying on his heart!" That insight and an overwhelming passion to see God's order established in situations probably captures what is at the core of my mantle.
It has resulted in great challenges, but also much fruit. I've been involved in a long-term, ongoing engagement with brethren within the persecuted church. One of my recent venues there was followed closely by a timely and very strategic initiative in the Mississippi Delta designed to break the stronghold of poverty that has held that region captive for far too long.
Yet, I seem to find myself again and again in situations in which I'm in so far over my head that I'm asking the Lord if I was really supposed to be a part. This post resulted from one of those involvements; in which the need for God's order at the macro-level was so strategic and the spiritual dynamic so subtle, with my lack being so evident to me, that I knew nothing else to do but to cry out to Him. The following wisdom is what I received.
Morris
________________________________
"This people honors Me with their lips, but their heart is far from Me. In vain do they worship Me, teaching as doctrines the precepts of men." Mark 7:6-7
In a day and time in which seduction is on the increase, Jesus foretold this day with an admonishment that even the very elect would be subject to deception (Matt 24:24). We live in a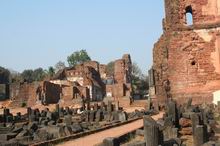 world of instantaneous communication where there is an explosion of information on every topic available to all. The Internet offers a spin on whatever viewpoint one might be enticed by; which explains the words of Jesus that in the time of the end, that even those at the forefront of His agendas would be vulnerable. The issue entwines Truth with the heart response to Truth.
We live in a world in which culture is at risk. Culture that may have been established in righteousness has been penetrated. The very ranks of those trained to lead the faithful have been deeply impacted. Yet, this hasn't happened overnight.
A survey published by the Chicago Sun-Times stated that "Four out of every ten Protestant and Roman Catholic clergymen interviewed in an opinion survey are considering leaving religious life." The reasons given could be summed up by the challenges of the countercultures invading Western culture. Amazingly, this survey conducted by the American Institute of Public Opinion was taken in April of 1971.
In that same time frame, as new, born-again believers, I recall our first pastor, a graduate of Dallas Theological Seminary, sharing that his time in seminary was the driest time of his Christian walk, a time in which he almost lost his faith. Why? Certainly, it was not because the Truth was not there.
It was because with the Truth, he was being inundated with the precepts of men, studies that reduced and contemporized the Truth into an array of theological premises and the doctrinal conclusions of men.
Similarly, in the 21st Century pace of Christendom, the array of Christian self-improvement books fills the shelves of huge Christian bookstores. As Christian radio and television have tapped the unchurched and instructed the Sunday-go-to-meeting crowds, it has evolved into offerings on the Internet that serves up doctrinal premises for every bias and then some.
The fact that we're in a culture war is nothing new. Since God has had a people, the infiltration of the profane, the corrupt and the unholy into the ranks of God's people has had a consistent track record.
However, the most diabolical of schemes is when the infiltration comes from within; and is fueled by and targets the blind spots among the well-intentioned and unsuspecting to give entrance to religious spirits that carry the subtle quest of undermining the good intentions sought, as the impact aligns with rather than changing the prevailing culture. At the heart of these schemes are the precepts of men.
"No one calls for justice, nor does any plead for truth. They trust in empty words and speak lies. They conceive evil and bring forth iniquity." Isaiah 59:4
Within this churning, what has evolved are ones who genuinely have the Truth, who have tapped the very heart of God; yet have fallen prey to spiritual pride. Alongside those, are ones with a genuine track record or spiritual maturity beyond the crowd; who step outside their sphere or who begin to serve as the accuser of the brethren (Rev 12:10) by pointing the finger in scorn at those not at their level of exploits or maturity. The deceiver, who met Jesus in the wilderness, is not short on tactics.
So where is the foundation? What is required to inoculate ourselves against the wiles of the deceptions that Jesus said would impact even the very elect? With that is what is missing in our role as His ambassadors?
The Challenge of Confrontation
The answer involves the role of those whose identity is fully in God facing the issue of sin with the full, strategic execution of what has been the mantle of righteousness since the days of Noah and Abraham.
The heroes of faith from the Old Covenant were distinctive. They stood out and they stood apart. They were willing to risk everything, including their lives, in holding the standard. God's power to them was much more than a precept. It involved consistently seeking God's guidance and then stepping out in faith to obey it. Radical steps were made as they fearlessly faced the challenges with a clarity of God's guidance. Noah heard from God and built an ark. Moses heard from God and led the Israelites out of Egypt. Joseph heard from God and weathered long-term adversity with faithful stewardship until God promoted him to bypass catastrophe. David heard from God and led God's people into a time of unity and peace. Daniel heard from God and established God authority within a culture of sorcery. In each case, these heroes of faith were willing to pay the cost of the challenge of confrontation.
These were confrontations with sin, confrontations with the forces of darkness that released God's power, brought change to the spiritual climate in their sphere and accomplished God's purposes. In each case, it involved a willingness to pay the cost for their identity in God as they held the standard established from God's guidance.
Defining Sin
The chief Christian view on sin tends toward an underlying evil pressing against us individually. It certainly is that. However, at sin's foundation is the corporate or community response to God of rebellion, which means that sin must also be defined in term's of mankind's relation to God. Sin challenges God's will; and originated from the seduction that took place due to Satan's deceit.
Since sin entered the world, in the enemy's scheme of things, if he can keep us majoring in minors and minoring in the essential things, he will keep us stymied. So it has been with the precepts of men. Likewise, this understanding of sin bears strategically on why getting a full grasp of biblical righteousness is so essential.
While sin and redemption in the Church, for the most part, is within the context of the individual; within Judaism, sin and redemption has its focus through the community. It is in this context, when the light of God is seen through the community, that the standard is set to the observing world. Jesus admonished His followers to "let their light so shine before men that they might see His good works and glorify Him." That underscores the importance of our cultural identity and purity, again in the words of Jesus that "we would be in the world, but not of the world."
The Response to Sin
The central issue is the response to sin and the righteous standard that is established for the world to see. It begins with an identity in God, of not being like everyone else. This righteous response to sin operates at the core of how we relate to one another. The Hebrew word for righteousness, tz'dakah, is very much a community dynamic. More correctly interpreted it means "righteous-charity." It's the foundation for Jesus telling us that the world would know us by our love.
"If your enemy is hungry, give him bread to eat; and if he is thirsty, give him water to drink; for so you will heap coals of fire on his head, and the LORD will reward you."
Prov 25:21-22
If sin is to be rightly responded to, then righteousness in its fullness needs to be in operation as a people. It's foundational to the Kingdom message, the paradoxes Jesus outlined to His followers on how to apply righteous power in a corrupt world.
Requisites for His Power
For that to happen, requires a maturity in the way we rightly divide the word of Truth. Depending on commentaries and what others say about the Bible may be a step in the pathway to maturity. However, it should not be confused with the maturity needed to "rightly divide the word of truth" (2 Tim 2:15) and adhering to His voice. John made it clear that the Holy Spirit would guide us into all Truth (John 16:13). This is foundational to releasing God's power.
"We have this treasure in earthen vessels that the excellence of the power may be of God and not us. We are hard-pressed on every side, but not crushed, perplexed but not in despair, persecuted but not forsaken. Always carrying about in this body the dying of the Lord Jesus, that the Life of Jesus may be manifested." 1 Cor 4:7-10
Recent developments within Western culture should be a wakeup call that something more than our best abilities is needed to release God's power. An anemic, divided Body will not find that power in the precepts of men. We delude ourselves with our illusions of success when we're being guided by the precepts of men. Spirit and truth operating together are not options to facing and confronting today's culture.
Restoring the Ancient Paths
The wisdom for the response is drawn from both the principles of God's word and the models of the lives of those who faced the challenges and adversities and through God, overcame. What it came down to, for these overcomers, involved majoring in the majors. Let's review what that means for us today.
Consecration and Repentance. God provides us the means to separate ourselves from the defilements of the world and the seductions that come from religious spirits and the precepts of men. Both personal and corporate repentance and consecration are vital. The heroes of faith were in over their heads, as many of us operate in a level beyond our human capabilities. That's why we can't depend on the precepts of men, but desperately need God as we enter into deadly encounters along the way. The importance of repentance, of the sacrament of communion, of the Sabbath and the corporate days of repentance and consecration cannot be overstated. With that, we all need that poise of the soul that quickly repents and quickly forgives.
The Word of Truth. Paul wrote Timothy (1 Tim 4:3) that there would come a time when people would not be satisfied with sound doctrine, but would have itching ears as they sought to be like everyone else. What Paul was referring to as "sound doctrine" was referred to in the previous verse where he exhorted Timothy to "preach the Word!" The foundation for Truth begins and it ends with the Bible.
Interpreting the Bible involves understanding the foundations of Jewish roots; and of comparing scripture with scripture. "In the mouth of two or three witnesses every word shall be established." (Deut 19:15) In other words, truth in God's word will be confirmed by God's word. This simple principle is a guard against religious meanderings and digressions that become the precepts of men. I like to view the teachings of Paul from the stance of the words of Jesus. Likewise throughout the word of God are models and examples (1 Cor 10:6, 11) of the principles of God's Truth and order being applied in real life.
Seeking/Hearing God's Voice. With this baseline of the Word of God, as we seek specific guidance from God, we have the principles and wisdom to discern whether a prophetic word, a dream or any other leading conform to God's order and His will. It's the reason scripture admonishes us to "judge" prophetic words. God has an order to all that is being done; and within the household of faith that order is to nurture and to build up the community (1 Cor 14:26).
Confronting Sin with God's Authority. Within the context of our place in the world's system, God has an order in the way we exercise our authority. It takes maturity, humility and it takes hearing His voice. We have models from God's Word of ones like Joseph and Daniel whose roles clearly were as God's ambassadors in settings that spiritually were contrary to the foundations of His Truth. There is a wisdom and process for the one called as infiltrator in worldly cultures. Not to be confused with being docile, nice people, it is a role with an identity in God that excels in its stewardship and demonstrates God's power by being blessed to be a blessing.
"The Lord was with Joseph and he was a successful man and everyone saw that the Lord was with Joseph and made all that he did to prosper." Gen 39:2-5
Establishing the Model of God's Order. Joseph, as a faithful steward, established God's order in Potiphar's household and this household was blessed because of it. Joseph's great-grandfather Abraham operated a God-centered, entrepreneurial community. That's the model. Joseph understood what it meant to build community and bring increase as one who heard from God and established His ways. The process was supernatural. Joseph heard from God, he obeyed and put in action the establishment of God's order. His identity in God was clear at each juncture in his tenure in Egypt and he unashamedly honored God when imparting His wisdom.
One of the secrets I've learned in following the Lord is that these principles are not a sequence or a goal to be arrived at; they're an ongoing process. They involve a continual reapplication: consecration and then re-consecration; seeking God and continually re-seeking Him for His guidance as we lean not unto our own understanding; dividing the word of Truth and continually going back and re-dividing it; and establishing and then rebuilding the standard to release God's model and the Kingdom within our sphere.
Whatever Became of Sin?
God never intended nor does He intend for us to live our lives passively. We've been chosen to make a difference; that each of us in our own spheres would wisely grasp His heart, avoid the snares and precepts of men, and bring about realignment and His order.
"You are My witnesses and My servant whom I have chosen, to understand that I am God." Isaiah 43:10
The high road on this narrow corridor we are navigating between life and death is not about us. That's why Jesus said "He who finds his life will lose it and he who loses his life for my sake will find it." That's a hard word, but one that should be bedrock for those who are chosen to align with His heart. In a world where political correctness likes to erase and deny the existence of the sin factor, we're called to face that sin and establish His will.
The issue we've been tackling has been how we can avoid the subtle deceptions of the enemy that keep us majoring in minors and minoring in the essential things? How can we avoid the snares and entrapments that Jesus warned us were incorporated in the precepts of men?
The strategy, in a word, is as it has been for ages past: in confronting sin; not foolishly, recklessly or impetuously, but with wisdom and God's order. This strategy begins by growing up. It begins by maturing with the discipline to deny ourselves and then refusing the snares from within enticed by the precepts of men.
___________________________________________________