DEFINING THE ISSUES
© Morris E. Ruddick
"Take heed what you hear. With the same measure you use, it will be measured to you; and to you who hear, more will be given. For whoever has, to him more will be given; but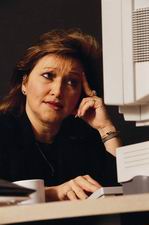 whoever does not have, even what he has will be taken away."
Mark 4: 24-25
We live in a world where people's perceptions are being defined by skewed sound bytes, biased news reports and distorted briefing points. The times seem to parallel a world seduced as described by Orwell in his prescient novel Nineteen Eighty Four. The perception becoming the reality is no longer relegated to the persuasive intents of the advertising community. The only time in recent history when truth and reality were so recklessly reshaped to this degree was during the time preceding WWII in Hitler's Germany.
Globally, the standard that endures is being challenged by a strange mix of uncertainty and idealism perpetrated by the stratagems and alliances formed between the mischievous and the misguided. That's the setting. That's the backdrop for understanding the times, so that in understanding the times, we might better discern what to do.
Yet, despite the creeping darkness, for those called by His name, this context offers incredible opportunity.
"Beware of those who will betray you, but know this will yield opportunity." Matt 10: 17-19
The world is looking for the reality of God being demonstrated through a people. The middle-ground of fence-sitting is being removed. It is a time of accelerated change and a time to prepare. It is a time to let our light shine, as Isaac did by hearing and obeying God as he sowed and reaped during a time of famine (Gen 29). It is a time when communities of modern-day Josephs and Daniels will capture the attention of the world around them through their faithful stewardship and with that, the authority and wisdom to be a light within the darkness.
Fresh Applications of Knowing What to Do
With these thoughts in mind, 2012 has been a most unusual year for our ministry. At the core of our mission is discerning the heart of God, defining issues and then with strategies based on God's model and mandate, strengthening, equipping and mobilizing leaders, especially among those persecuted and oppressed for their faith.
So, as we have traveled the nations to fulfill this mission during this last year, our sights have been lifted in terms of the whole arena of "understanding the times and knowing what to do." If I had to sum it up in a word, this year has been a sequence of exposures to fresh applications of the model and strategies reflected by the "Joseph-Daniel calling" and wisdom of "God's economy." These applications offer pivotal insights into responding to the times we have entered and are key to the mandate of preparing to prepare.
At the core of our observations is the Abrahamic model of God-centered, entrepreneurial community. Within totally different contexts, we have seen unexpected demonstrations of the application of this Abrahamic model. We have witnessed it releasing God's authority to bring influence and positive impact in unlikely secular and corrupt settings. We've viewed the release of God's power resident within remnant communities operating in unity as they have been led by the Spirit to operate beyond the threshold of their natural abilities. We've observed the potential exhibited by the establishment of "incubators" to enable opportunity and bring increase in community settings. Incubators are safe places that nurture the growth of an enterprise, be it ministry or business or both.
These "unexpecteds" we've encountered the past few months have taken place in locales ranging from the African continent, to Asia, to Eastern Europe, as well as within areas in our own nation. So, let me share just a glimmer of what's been quietly been taking place among these forerunners within the Body.
Influence against All Odds
In a quiet, yet small, remote city in Eastern Europe, we found a congregation busy with the purpose for which they originally came together a little over a decade ago. Although only about 70 families, they more aptly might be described as a community. They're very Israel-focused simply because they see that as God's heart. When they originally came together it was for the purpose of establishing a private Christian school with an excellence that would draw students from the broader community.
As a former communist stronghold, they were told they would never get approval for this agenda. But they didn't give up. After the rejection of several applications, they finally got approval to start a private Christian Kindergarten. It offered much more than the state schools. The Kindergarten then grew into a Grammar School, which resulted in parents of a diversity of responses to faith on waiting lists to get their children in. They now have expanded to have a Secondary School.
Then a little over a year ago, with cash reserves from these operations, they invested in a growing high-tech franchise. Within a year this expanding business reaped sufficient revenues to purchase another franchise. In total they now own the three properties housing their schools, two franchises, a block of homes housing their leaders and have more than 60 employees in their combined school, business and congregational operations.
The impact they have made on not just the students, but the parents and the communities around them has sent out ripples. Despite the scorn expressed by national governmental figures on their clear stance on biblical issues, local authorities and the continuation of the waiting lists attest to the positive influence they are making.
Authority to Bring Change
On the African continent, we have been involved with and observed key, diverse, initiatives. One recent example involves a purposeful group of Christian members of Parliament, whose mission for their nation is aligned with that of local spiritual leaders transforming inner-city communities. They meet regularly to seek God. Their wisdom to bring positive change is being actively sought by leaders from a diversity of political perspectives. I was honored to address and consult with these modern-day Daniels on the unique pathway they are paving as forerunners bringing change to their nation.
In the same nation, closely aligned with this group of national leaders is a group of modern-day Josephs who have come together to form a network of Joseph-type business owners to take responsibility for the resources of their nations; to enable opportunity and mobilize a remnant of influence within individual nations across sub-Saharan Africa. It was my joy last January to be a part of the planning and launch of this network, a Kingdom Chamber of Commerce specific to the needs of Black African Enterprises with ties to Israel.
A Light in the Darkness
Our ongoing work in Asia has given focus to mobilizing those persecuted for their faith to be the head and not the tail. We've applied our program to a variety of settings, collaborating with and adapting to the specific needs outlined by regional leaders. Our efforts have touched more than 17 areas from the community level to ones serving as national leaders.
Our entrepreneurial community development program involves the training and setup of leaders and a follow-up program which has been instituted by key leaders in a fashion that has far exceeded our expectations. One case involves our working with a leader who trains leaders in a most inventive relationship with local business owners.
Among the hundreds of businesses spawned as a result of our program, the oversight of their leaders has resulted in their efforts becoming self-sustaining, and for two of them is approaching the fifth generation crop of new businesses birthed since our original efforts with them in 2008.
However, on our most recent flight into this nation, we encountered one of those "unexpecteds." Sitting next to us was a young man in his late 30s. He asked what brought us to this nation. We told him that we had a very Jewish business startup program that we administer to poor communities through the church.
Noticing his eyebrows raised at this description, he indicated he also was involved with the start of businesses in this nation and that we should talk further. Explaining that he had been working in this country for ten years, he invited us to come visit him. Although I hadn't realized it when I gave him the description of our program, it became evident as we spoke that our new friend was Jewish.
Consciously ignoring the jet-lag, we grabbed a cab the next day to his place of business. His rented facility was in a remote part of town in a somewhat worn-down old villa that included a main building and a few smaller ones. What this young man had set up was a training center for the disabled and disfigured, those who had little chance to make a living even at a subsistence level in this society.
He trains them in making jewelry and other skills, which all works in concert with a team operating to sell what they produce by means of the Internet. He houses and feeds his trainees for six months during this on-the-job training. Realizing the potential our program might have with these added dimensions of this young man's resourcefulness, we had our sights broadened by the potential of this unique relationship and parallel to the model we espouse.
Community Building
Back in our own nation, we paid a visit to an entrepreneurial couple we know. In the late nineties, at God's leading, they pulled up stakes with their nationally-reputed bed and breakfast operation and moved it to a remote, rural setting in the US northwest. Not unlike the impact of my own anointing as a catalyst, they have served as mobilizers of Christian leaders in this small town which includes a population with a high ratio of Native Americans. With self-sustaining entrepreneurial community initiatives, they have also established in the town-center a restaurant that includes meeting rooms, that already have been serving as a "community-center."
So it was, during our visit with them that they arranged a meeting to discuss the potential that applying the "self-sustaining" dimension of our God's economy program might have for their community. Those attending, including the mayor of the town, were all committed believers. Their doctrinal stances ranged from Lutheran, Pentecostal, Catholic and Baptist, but all shared the common purpose of operating their own businesses in a way that nurtures opportunity for the good of the members of this community.
Incubator Community
Then in still another area of the US, leaders of this congregational community in this mid-sized US city view their area as having the mantle of being a "city of refuge." Biblical community in itself is designed to be a safe place. Having started as an outreach to the poor and homeless, this amazing group not unlike the Eastern European community described above, share an evolving common purpose.
Simultaneously, they functionally have become an incubator for a host of complementary ministries that serve specific needs, all of which add benefit to their common purpose. With a dual function of serving the needs of the local community by enabling opportunity, they also impart their Isaiah 58 mantle globally with a unique mission program with teams of its members. In all this, they are emerging as a community of leaders.
In each of these scenarios, through the application of the God-centered, entrepreneurial community model and being blessed to be a blessing; issues are being seen by those impacted in their true context. Each in their servant leadership functions has drawn a spotlight and trust that counters attempts to reshape the perceptions of reality. Each is realizing an impact from employing core Kingdom principles:
Leadership by serving as the Lord is making them the head and not the tail;
An identity in God as a culture within a culture;
Demonstrating God's reality to touch hearts and benefit the entire community;
Authority to bring change by influence that builds community;
Operating in unity with a common purpose that enables opportunity; and an
Impact that changes the spiritual climate of the broader community.
In a world seduced by corruption that presents black as white and white as being black; our efforts are defining truth and the strategic application of truth for those we serve. We're not promoting business as usual, but rather reaching for the something more in the biblical foundations and model that has defined the heroes of faith over the centuries and then through the anointing, serving as catalysts that spark agendas that are timely and make a difference.
"Ask of me of things to come concerning My sons; and concerning the work of My hands, command you Me."  Isaiah 45:11
In all of the above scenarios, I'm beginning to grasp and discern the glimmers of something extremely strategic coming from the heart of God that only a remnant are now grasping and acting on. It's raised my sights. It's more than just surviving during a time of darkness. It has its foundation in the elements that spark revival, days like the Charismatic Revival of the early 70s that not only drew us to faith, but so gripped us in its potency and purpose, that we left the security of the career and life-purpose that we had been pursuing to become a central part of this eternally meaningful pathway.
I probably described it the same way then, as we ventured out, knowing only that we were following a move of the Spirit. God was indeed moving and you just wanted to be a part of it. So it is today, that I believe we've touched the hem of His garment and just need to hang on!!
"Yet in a very little while the barren land shall become a fruitful field, and the fruitful field will be as a forest. That the deaf shall hear the truth, and the eyes of the blind shall see. The joy of the humble will increase and the poor shall rejoice in the Holy One of Israel." Isaiah 29: 17-19